San Jose Eye Doctor, Tarryn Uyen Ngo, OD
Welcome to North Valley Optometry, office of Dr. Tarryn Uyen Ngo.   Dr. Ngo grew up in the Berryessa area of San Jose, and has been practicing there for the past 15 years. "I always thought as a child becoming an eye doctor would be a great profession in healthcare where I could help people in San Jose."
Optometry Education & Experience
She received her Doctor of Optometry (O.D.) degree from Southern California College of Optometry, one of the leading optometry schools in the U.S., to provide the highest quality optometric education through excellence in teaching, patient care, research and public service.  She is proud to have grown up in the community she now serves in as a San Jose Eye Doctor.
Dr. Ngo's training and experience allow her to practice the broadest scope of eye care ranging from prescribing spectacle lenses, fitting contact lenses, correcting binocular disorders, and to diagnosing and treating eye diseases including infections, allergies, and injuries. "Being a San Jose Eye Doctor is very rewarding. I do believe the eyes are the gateway to the heart and through a comprehensive eye exams we can learn much about our patients overall health."
North Valley Optometry Serving San Jose, Milpitas, Sunnyvale and Santa Clara
According to Dr. Ngo, "I believe what differentiates our optometry practice is the personal attention we always try to provide for our patients. I think our patients appreciate the fact that we are very low key and focus on service and vision care versus a more "business" oriented practice. I personally know and treat all of our patients, it's like they are a part of our extended family."
We look forward to hearing from you. – Contact Us today for an appointment!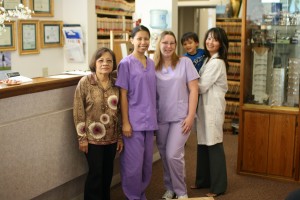 Dr. Tarryn Uyen Ngo is a San Jose Optometrist serving San Jose, Milpitas,  Newark and Santa Clara.
For more details on North Valley Optometry visit our San Jose Vision Articles section.